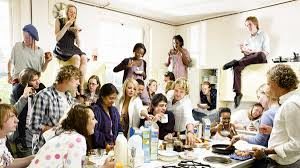 Great meeting last night! Our new president (Larry K3PTO) really knows how to run things. Not only was the meeting in its self good, but the turnout was outstanding! We had twelve (12) members in attendance and three (3) visitors Daniel Malloy, Ann Mott (who tested for Tech and PASSED), and Ron Gentry (who also tested for Tech and PASSED). Hope you all are thinking about joining the club!
Fred (K0FG) gave a rundown of the outcome of our Eagle Days SE:
Total Contacts; 78
33 on 40 meters
45 on 20 meters
We worked 26 States
3 Canadian provinces
1 DX – Trinidad & Tobago in the Caribbean
Fred has received 17 requests for QSL cards. Below is a sample of the QSL card the club is sending.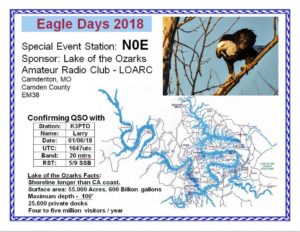 Again a really big THANKS to those listed below, with whom without the event wouldn't had happened:
Fred Groce K0FG – who was instrumental in setting things up and getting the SE call sign.
Larry Cicchinelli K3PTO – President of LOARC
Jerry Parmer KE0OTM
Lee (duck you head) Cole KC0KTY
Ray Myers WB0AYF and his lovely Wife Debbie
Scott Poest KB8KGU
Ben Poest whose call sign I don't know
Jack McGuire KD0QEB
And a really big THANKS to Ernest Venis W0LTC who offered the use of the Camden
county EOC's facilities for the club to use and donated his time.
On a different note, Ernie (W0LTC) would like to hear from anyone interested in ARES (Amateur Radio Emergency Services) . You can click HERE and download the application form. You can fill out the form and then either scan it and email to Ernie, me, or to the website. I will make sure it gets to him. Also, anyone who is already active he would like you to submit another form.
The club president Larry (K3PTO) asked for some ideas for any projects the club members would like to do. This would include building electronic projects, training lessons or any other activities of interest within the realm of HAM radio, computers, or electronics.
Don't forget about Winter Field Day which is going to be the 27th & 28th of January, anyone interested can find out more HERE. (The club is not participating, just something the webmaster thought would be of interest.)
Well I guess that's about all for now . . . don't forget to check where the Eat'n Meet'n is going to be, check out the for sale items, and the pictures of our Christmas Party and Eagle Days.