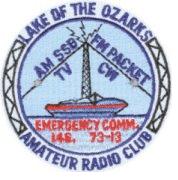 Well not much going on these day. Sure would like some ideas from out there.
I did update the "For Sale" area. Remember members if you have anything you would like to list just send an email to me directly (kd0qeb@nullgmail.com) or use the club's email (listed in the header of each page) listing the items, how much, were the items is located, and how to contact you.
Dayton HAMVention is coming up 19th – 22nd of May in Dayton Oh.
The Warrensburg HAMFest in July, for more information click on it.
Finally! Don't forget about Field Day! It's the last full weekend in June (25th & 26th this year) every year. For information on the club's event check out the tab "Field Day". You new HAMs can find out more about Field Day at the ARRL Field Day site. You don't have to be a member of ARRL to view the information, but I strongly recommend you do join.