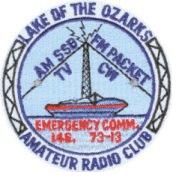 Here we are the end of the second month of 2019 is only 9 days away, wow this years is flying by.
Our Club president, agreed to head up our Field Day activities and is asking that members and non-members interested in participating contact to him via his email address: [email protected] and let him know the days and hours you would be available on June 29th and 30th for Field Day. Those of you that don't have a license can still participate in setup/tear-down or being a operator on one of the radios.
Remember we have the Emergency Net at 10 AM on the SECOND Wednesday of each month on our club repeater (146.730) and again on 146.955 repeater at approx. 10:15. Also, our club meeting is on the same day click "Club Info –> Meetings" at the top of the page for more information on the meeting.

Updated Eatin' Meetin' for February 22nd &March 1st.
Added a new area to the Main Menu area . . . let know what you think.
Don't forget to check out the For Sale area.
Well that's about it for now so till next time C'YA!