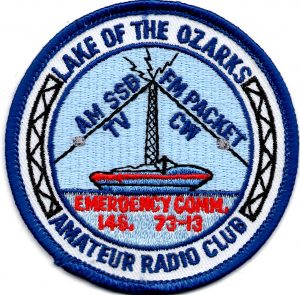 The Lake of the Ozark Amateur Radio Club…
will participated in this year's Camdenton Memorial Lake Regional Airport Air Show on September 12th. And reports I've reveived indicate it was a SUCCESS!!!!!! Indication are we have several prospect for taking the below listed study secession.
On another note I've listed three youtube videos ALL HAMs need to watch. These deal with the possibility of the FCC increasing the fee for license to $50. K6UDA outlines the problems. The seconded one is a little long because he is actually in a live feed and is covering many topics. Simply click on them to watch, will open in new tab.;.
2) Live feed covering many topics including FCC fee hike.
3) FCC hike and how to make you opinion heard.
Here are links to two ARRL articles on this subject, again simply click on them to read, will open in new tab;.
Amateur Radio License Class
Have you ever wanted to get your ham radio license? Here is a helpful class to make it easy.
The Lake of the Ozarks Amateur Radio Club (LOARC) is sponsoring this one-day course designed to help you obtain your entry level Technician License. It will not be an instructed course but rather a prep-class. The morning and early afternoon sessions will be devoted to studying the correct answers to the questions. This teaching method has resulted in a 90% passing rate. The license exam consisting of 35 questions (chosen from the exam pool of 250 questions) will be given in mid- afternoon. The total cost of the class is $30.00: a fee of $15.00 for the materials involved in taking the class to be sent in with the application below plus an FCC fee of $15.00 to take the exam which must be paid in cash the day of the exam.
A seventy-four percent grade (26 of 35 questions) or better on the exam will earn you your Technician license and set you on the road to amateur radio adventure. The class attendees who actually pass their Technician License will have their names put in a hat for a drawing, and one lucky new licensee will win a hand held 2 Meter radio programmed with local repeater frequencies.
The class will be held on Saturday, October 3rd starting at 8:30 a.m. and should end by 4:30 p.m. with a break for lunch. Location: the Emergency Management Agency (EMA) Building, 12 V F W Rd, VFW road is about 1mile from the light at the square SE on business 5.

When: Saturday, October 3rd.Time: 8:30 a.m. until 4:30 p.m. with lunch break.
Where: EMA Building at 12 VFW Road.
Please mail your application no later than 9/28/2020with a $15.00check made to LOARC.
# —————————————————————————————————————–
Copy & Paste the following, fill it out and Mail to:
Lake of the Ozarks Amateur Radio Club
106 Rosewood Terrace
Camdenton, MO 65020
I wish to take your amateur radio Prep Course on October 3rd.
A check for $15.00 made out to LOARC is enclosed. No refunds for no-shows.
Name: _____________________________________ Phone: ________________________
Address: ________________________ City: ________________ State: _____ Zip: _______
I understand I will need to pay a $15.00 cash fee to the FCC at the time of the exam.
Signature: ____________________________ email: [email protected]_____