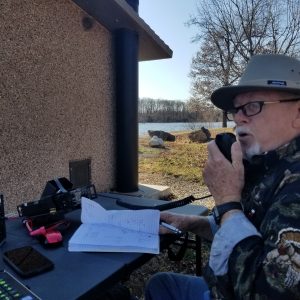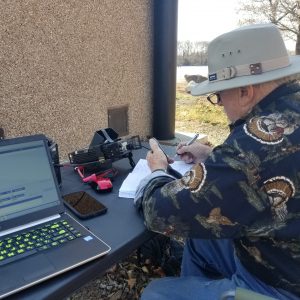 At the October meeting Glenn (K0KER) gave a presentation on Parks On The Air (AKA, POTA), it was very interesting and everyone was very attentive. If you missed the meeting and therefore the information Glenn disseminated, if you contact him I'm pretty sure he would be happy to enlighten you (or go to Parks on The Air web site by clinking here).Send an email to the above address and I'll forward your request to him.
At the November meeting Glenn informed me he was going to activate a local park, I asked him if he minded if I (Jack [WJ0TM]) came along. After some HEM-HAWING around he agreed. So Thursday (11/19/20) I met Glenn at a Conservation area near the town of Fortuna called Manito Lake.
It took about 20 minutes for us to get set up. Glenn was using a Xiegu G90 HF Amateur Radio on 20 meter with 20 watts of power from a 12Ah LiFePO4 battery. His signal was sent out via a Hustler 20 Meter mobile antenna resonator attached to the receiver hitch on his vehicle. I had the high honor of being his "logger".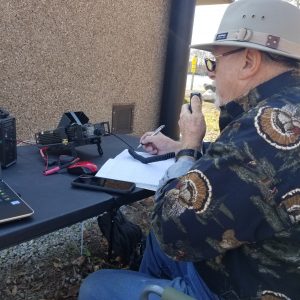 Glenn started calling CQ at five minutes to 1300 hrs (that 1 PM for you non military types) and stopped calling CQ at 1400 hrs (need I spell this out?). In that hour he made 39 contacts. The one contact he made that really made his day was from ALASKA. He also made several contacts from Canada and all across the USA.
BTW, see the blue and white chair in the last picture? That's me in stealth mode. The weather was blistery with a sustained wind speed of around 15 MPH and gust well over 40 MPH. We had setup behind the parks outhouse to keep out of the wind.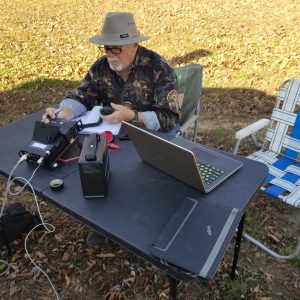 All in all it was a really fun day . . . thanks Glenn for the really neat introduction to mobile HF work. I look forward to doing some mobile work myself . . . SOON!