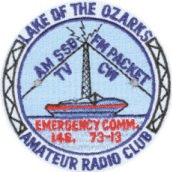 Well boys and girls another Field Day has come and gone! And man did we have fun. Will be posting some pictures real soon.
Don't forget t check out the Eatn' Meetn'.
Remember the Warrensburg HAMFest only a couple of weeks away.
LOARC's monthly meeting is the next item on the event calendar. Click here for more information.
The monthly Emergency net is on the second Wednesday (July 13th). Again for more information click here.