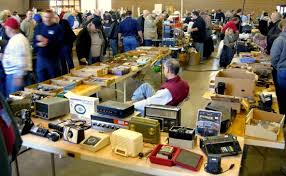 LOARC for Sale Policy change
Created: November 10, 2017
LOARC's "FOR SALE" area is now open to all. It is a free service offered to all members and non-members.
All transactions are strictly between buyers and sellers. LOARC AND ITS OFFICERS assume no responsibility in any transaction between participants. Buyers and sellers alike must beware and use reasonable precaution when dealing with unknown parties via this medium.
Items are listed below the example so scroll down to the double dash line.

**************************** EXAMPLE ****************************************
Here is an example of the form:
Seller's Name: __John Doe_____ Seller's Call Sign: _XX0XXX____________
Seller's Contact Info (Phone No. or email): 555-123-4567 or [email protected]________
| | | | |
| --- | --- | --- | --- |
| ITEM | CONDITION | DESCRIPTION | COST |
| Yaesu FT-950 | Working | Non smoker house, small scratch on left side | $10,000.00 |
| Hy-gain Tail Twister Rotator | Need controller | Some wear n tare | $400 or best offer |
| Chevy PU | Some rust | 1905 flat bed | $2,500.00 |
The last item would be deleted by Webmaster. He/she may or may not contact the seller as to the deletion of the item and why, at his/her discretion.
On the website once approved by the webmaster the ad will be displayed like this:
John Dow has items for sale, click HERE to download the info.
+++++++++++++++++++++ Procedure ++++++++++++++++++++++
Please limit to 10 items. Items must be HAM related items (i.e. radio, microphone, head sets, Amplifiers) or other related items (i.e. computer, soldering equipment, test equipment).
Down load the form by clicking LOARC For Sale Form, Select "SAVE".
Open the file and fill it out, then email it back to the webmaster at the address above ([email protected]).
Webmaster will create a "Hot" spot for users to download the form you have uploaded to him.
Webmaster reserves the right to review the request and delete items as he/she deems necessary.
Form will be time stamped and will be deleted 90 days after posting; however, if your item(s) sell, please notify the webmaster so that you won't continue getting called.
================= ITEMS FOR SALE BELOW ==================
Larry has a list of items for sale, click Larry K3PTO For sale to view the items.
ESTATE SALE FOR WB0GZR, Rick Mabrey for more information click on Estate. It also contains contact information.
More stuff from Fred (K0FG) Fred Page 1 Fred page 2