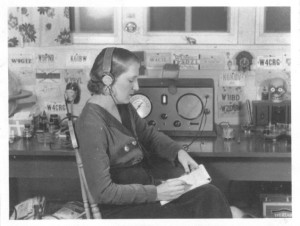 Listed here are some, not all, Special Events taking place in the ARRL Midwest Division for the current month. Also listed are some from other divisions that maybe of interest to some members. For a complete list of current or upcoming special events go to ARRL website.
For more information simply click on the click provided (usually in blue) or go to ARRL website.

---
· 05/23/2018 | Silver Comet Trail 10th Anniversary
May 23-Jun 3, 0000Z-2359Z, W4T, Hiram, GA. Silver Comet Amateur Radio Society. 14.260 14.074 7.260 7.074. Certificate & QSL. Dave Walk, K4BBH, Silver Comet Special Event, 46 Ashwood Ct., Rockmart, GA 30153. Contact exchange, rules, bands, modes, certificate and, QSL information available on website silvercometars.com
· 05/24/2018 | Memorial Day K1A
May 24-May 30, 0000Z-0000Z, K1A, Cleburne, TX. Club KC5NX. 14.224 14.045 7.255 7.045. QSL. Jay Stanfield, 9200 Summit Court West, Cleburne, TX 76033. Club KC5NX will be on the air again this year as K1A to honor those who have sacrificed themselves to secure and protect our freedom.It is a day we encourage every individual, young and old, to pause, to give thanks and to remember. kc5nx.radio.club@nullgmail.com or www.qrz.com/db/kc5nx
· 05/24/2018 | Strange Antenna Challenge
May 24-May 27, 0400Z-0659Z, K0S, Springfield, MO. N0EW. 14.300; all modes, all bands. QSL. QSL to amateur , or club, contacted. This special event is open to all legal amateur radio operators; individual amateur radio operators and clubs are invited to participate as a special event station. QSL requests must be sent to the amateur radio operator or club with whom contact is made; not N0EW, unless that is the station with whom you have made contact. All legal frequencies may be used. The Strange Antenna Challenge is a special event in which amateur radio operators employ found or makeshift antennas to simulate emergency operating conditions following a storm or other natural disaster. It is also an educational outreach opportunity for clubs to stir interest in antenna theory, and as an interesting special event to draw the interest and potentially new amateur radio operators from the public. The call sign K0S is an affirmation of the unique public service given to all of us over the years. erikeweaver@nullgmail.com
· 05/26/2018 | 2nd Annual Special Event at the Fort Pierce Navy Seal Museum Honoring National Military Month
May 26, 1300Z-1900Z, W4OT, Fort Pierce, FL. Vero Beach Amateur Radio Club. 14.327; 40 meter general portion; 078C D-Star. Certificate. Vero Beach Amateur Radio Club, c/o IRC EOC, 4225 43rd Avenue, Vero Beach, FL 32967. www.vbarc.net
· 05/26/2018 | Poland through the Ages
May 26-May 27, 0300Z-0900Z, W3P, Warminster, PA. Warminster Amatuer Radio Club. 14.250. Certificate & QSL. The National Shrine of Our Lady of Czestochowa, 654 Ferry Road, Doylestown, PA 18901. for QSL & certificate please send SAE. www.k3dn.org
· 05/26/2018 | Run for the Red White and Blue
May 26, 0200Z-1500Z, KC5DR, West Monroe, LA. Louisiana Delta Radio Club. 14.255. Certificate & QSL. Jospeh Holland, 6019 New Natchitoches Rd, West Monroe, LA 71292. We will have day long activities as this is also the Military Museum's Memorial Day celebration! www.kc5dr.com
· 05/28/2018 | Memorial Day
May 28-Jun 3, 0000Z-2359Z, K7UGA, Phoenix, AZ. Central Arizona DX Association. All bands, all modes. QSL. Bob Davies, K7BHM, 1623 N. Los Altos Ct., Chandler, AZ 85224. www.cadxa.org
· 05/31/2018 | Corvette Homecoming
May 31-Jun 3, 1400Z-2300Z, KY4BG, Rockfield, KY. Kentucky Colonels Amateur Radio Club. 14.265 7.265 3.865. Certificate & QSL. Mary Hext KB4KCV, 1997 Browning Road, Rockfield, KY 42274. See website for certificate and QSL information. www.kcarconline.com
· 05/31/2018 | Viet Nam Memorial Moving Wall
May 31-Jun 3, 1400Z-2300Z, NV7CV, Minden, NV. Sierra Intermountain Emergency Radio Association. 147.330 146.520 14.237 7.185. QSL. SIERA, P.O. Box 2348, Minden, NV 89423. SIERA Amateur Radio Club will be commemorating the Viet Nam Memorial Moving Wall which will be in Minden NV between May 31st until April 3rd, 2018 The Moving wall lists the Names of all the severicemen, inscribed on the Wall, who lost their lives in Viet Nam. A QSL card will be available to all who make contact with this special event. CONTACT: SIERA, P.O.Box 2348, Minden, NV 89423-2348 www.cvhams.com
· 06/01/2018 | FIFA World Cup 2018 Russia – Soccer
Jun 1-Jul 15, 0001Z-2359Z, **18FWC , Various, RUSSIAN FEDERATION. Union of Radio Amateurs of Russia. All bands, all modes. QSL. upload information to , fwc18.hamlogs.net, NA, RUSSIAN FEDERATION. Special call sign in Russia **18FWC. Inviting others to participate; other countries are asked to use **18FIFA. For complete details contact Aliy at ua6yw@nullmail.ru
· 06/01/2018 | Lewis & Clark 1804 Expedition
Jun 1-Sep 15, 0100Z-1500Z, N0HWJ, Orchard, NE. N0HWJ. 14.275 14.250 3.982 3.975. QSL. Don Lallier, N0HWJ, PO Box 303, Orchard, NE 68764. Please send self-addressed stamped business envelope along with your QSL card and QSL information. My QSL information may be found on QRZ under my call.
· 06/02/2018 | First Nuclear Submarine USS NAUTILUS
Jun 2-Jun 3, 1300Z-2100Z, N1S, Groton, CT. Generations Amateur Radio Club. 21.324 14.264 7.264 3.924. QSL. via bureau c/o K3LBD or or direct to GARC, Harrison Solt, N1FAM, 110 Vinegar Hill Road, Gales Ferry, CT 06335. Museum Ships Weekend participant. Nautilus info: ussnautilus.org. https://www.qrz.com/db/n1s
· 06/02/2018 | 7th Annual Brothers and Nightwatch Handshake
Jun 2-Jun 10, 1014Z-1014Z, N4B, Chesapeake, VA. The Brothers Net. 7.192. QSL. Phil Henline, 4913 Manning Ct., Chesapeake, VA 23321. Celebrating the 7th annual Handshake of the Brothers Net and the Nightwatch Net from Russellville, Kentucky. philhenline@nullgmail.com or www.w9bro.net
· 06/02/2018 | Historical Ships on the Air
Jun 2-Jun 3, 1400Z-2200Z, NY3EC, Pittsburgh, PA. USS Requin SS481 Amateur Radio Club. 14.265 14.048 7.265 7.048. QSL. Art Mueller, WA3BKO, 1532 Millers Run Rd, McDonald, PA 15057. www.qrz.com/db/ny3ec
· 06/02/2018 | Museum Ships Weekend
Jun 2-Jun 3, 1100Z-2100Z, K8E, Toledo, OH. Toledo Mobile Radio Association. 14.260 14.039 7.260 7.039. QSL. K8E Col. James M. Schoonmaker Team, P.O. Box 9673, Toledo, OH 43697. www.tmrahamradio.org
· 06/02/2018 | Museum Ships Weekend Event
Jun 2-Jun 3, 0001Z-2359Z, NJ2BB, Camden, NJ. Battleship New Jersey Amateur Radio Station. 21.362 14.262 14.050 7.262. Certificate & QSL. Margaret Burgess – KB2BRR, 150 Schooner Ave, Barnegat, NJ 08005. All stations that work at least 15 different ships of those listed as participating will receive a certificate if they send a copy of their log entries showing these contacts. www.nj2bb.org
· 06/02/2018 | Nathan Hale's Birthday – Connecticut Resident American Patriot
Jun 2-Jun 3, 1200Z-0300Z, N1H , Stratford, CT. Housatonic ARC Westport Astro Society Amateur Radio Club. 14.250 7.250. Certificate & QSL. Email HARC.N1KT@nullgmail.com for Certificate PDF; , for QSL Ken Johnson, NE1CU, PO Box 421, Stratford, CT 06615. Will operate SSB and PSK31. SASE for QSL. Email contact info to HARC.N1KT@nullgmail.com for pdf certificate. www.N1KT.org
· 06/02/2018 | SE Kansas Mining Special Event 4 of 7
Jun 2-Jun 3, 1500Z-2300Z, K0SEK, West Mineral, KS. Southeast Kansas Amateur Radio Club. 7.242 14.250. Certificate & QSL. K0SEK Attn CHANCEY #SASE, 409 W Quincy ST, Pittsburg, KS 66762. Big Brutus miners reunion is the 4th of 7 Special Events recognizing the mining history in SE Kansas !! See website for details including QSL and Certificate info. https://www.sekarc.net/p/sek-mining.html
· 06/02/2018 | Special Event Station EI100MCV – Canada Armed Forces Day
Jun 2, 0800Z-2359Z, EI100MCV, Dublin, IRELAND. National Maritime Museum of Ireland Radio Club. All bands, all modes; operating on or close to frequencies ending in 18. QSL. Via bureau, Clublog, or direct to Dave O'Conner, EI6AL, Silver Howe, Sydenham Mews, Corrig Avenue, Dun Laoghaire, Co. Dublin A96 RF99, IRELAND. This is part of a year-long event commemorating the sinking of Royal Mail Ship (RMS) Leinster. June events include Canada Armed Forces Day on June 2. See website for full details. www.qrz.com/db/ei100mcv
· 06/02/2018 | USS Midway Museum Ship Special Event: Museum Ships Weekend
Jun 2-Jun 3, 1600Z-2300Z, NI6IW, San Diego, CA. USS Midway(CV-41) Museum Ship. 14.320 7.250; 14.070 PSK31; D-STAR on REF001C. QSL. USS Midway (CV-41) COMEDTRA, 901 N Harbor Drive, San Diego, CA 92101. We will be operating 1600Z to 2300Z during each day of the event.
· 06/02/2018 | W2W – Pearl Harbor Commemoration
Jun 2-Jun 6, 1320Z-1320Z, W2W, Baltimore, MD. The Amateur Radio Club of the National Electronics Museum (K3NEM). 14.244 14.044 7.244 7.044. Certificate & QSL. W2W Special Event Station, Box 1693, MS 4015, Baltimore, MD 21203. Amateur Radio Club of the National Electronics Museum (ARCNEM) will operate W2W in commemoration of the anniversary of D-Day and the role of electronics in WWII. Operation on 80M (3.544, 3.844) and digital modes possible during event. Additional operation is also possible during the June 2-10 period, as operator availability permits. Frequencies +/- according to QRM. QSL and Certificate available via SASE; details ww-2.us
· 06/02/2018 | Walthall County Dairy Festival 2018
Jun 2, 1400Z-2000Z, W5WQ, Tylertown, MS. Southwest Mississippi Amateur Radio Club. 28.482 21.282 14.282 7.282. QSL. Homer Richardson / WB5ASP, 1545 Friendship Ln NW, Brookhaven, MS 39601. Celebrating the Dairy Industry in Walthall County, Mississippi. www.w5wq.net
· 06/02/2018 | WWII Submarine USS Cobia On the Air
Jun 2-Jun 3, 1400Z-2100Z, NB9QV, Manitowoc, WI. USS Cobia Amateur Radio Club. 14.240 7.240. QSL. Fred Neuenfeldt, W6BSF, 4932 S 10th St, Manitowoc, WI 54220. Please include a #10 SASE for QSL card. www.qrz.com/db/nb9qv
· 06/08/2018 | American Cancer Society's Relay For Life
Jun 8-Jun 9, 2000Z-1959Z, N1C, Gardner, MA. Area Amateurs. All FT8 frequencys 20, 40, 80 meters SSB. QSL. Bill Leger, N1UZ, 38 Chapel Street, Gardner, MA 01440. Great cause, third year doing this event. All QSL cards will be answered. Any and all donations will be appreciated. Last year we raised over $1,000 and had a blast doing it. Start a event near you.
· 06/08/2018 | Celebrate Summer @ Your Library
Jun 8, 1800Z-2300Z, K3L, Gettysburg, PA. Cumberland Amateur Radio Club. 14.260. QSL. Harry Fasick, P.O. Box 234, York Springs, PA 17372. Second annual Adams County (PA) Library Systems Fun Fest. www.adamslibrary.org www.radioclub-carc.com
· 06/08/2018 | Grand Prix de Montreal – Racing 2018
Jun 8-Jun 15, 0000Z-0000Z, VE2SPEED, St-Jerome, QC. VE2JCW. 14.030 3.525 14.340 7.020. QSL. Jean Charron, 17 Elisabeth, St-Jerome , QC J7Z 2S9, CANADA. All Bands, All Modes.
· 06/09/2018 | Jimmy Stewart Airport Festival
Jun 9-Jun 10, 1400Z-2000Z, W3BMD, Indiana, PA. Indiana County Amateur Radio Club. 14.270 7.230. QSL. Indiana County Amateur Radio Club, P.O. Box B, Robinson, PA 15949. Operating times are daily. Check usual 20 and 40 digital frequencies. SASE for QSL. qsl.net/w3bmd
· 06/14/2018 | Miamisburg Ohio 200th celebration
Jun 14-Jun 26, 0000Z-0000Z, W8M, Miamisburg, OH. Mound Amateur Radio Association. 147.195 145.330; 443.000 pl 88.5. QSL. W8DYY c/o Bill Pell, 1143 Charter Place, Dayton, OH 45458. www.w8dyy.org
· 06/16/2018 | Driving The Dixie Highway
Jun 16, 1400Z-2100Z, W9VT, Homewood, IL. Tri-Town Radio Amateur Club. 14.344 7.270. QSL. Tri-Town RAC, PO Box 1296, Homewood, IL 60430. www.w9vt.org
· 06/18/2018 | NASA on the Air (NOTA), 35th Anniversary of the First American Woman to Fly in Space
Jun 18-Jun 24, 0000Z-2359Z, NN4SA, Huntsville, AL. NASA Marshall Space Flight Center Amateur Radio Club. 21.295 14.235 7.195. QSL. Marshall Amateur Radio Club, NN4SA, c/o Don Hediger, ES35, Huntsville, AL 35812. Send S.A.S.E. for NN4SA NOTA QSL card or login to nasaontheair.wordpress.com for details regarding an end of year downloadable certificate for NOTA. https://nasaontheair.wordpress.com
· 06/22/2018 | ARRL Field Day 2018
Jun 22-Jun 24, 2200Z-2200Z, K5S, Sachse, TX. Sachse Amateur Radio Association. 14.150. Certificate & QSL. Kerry Krueger, 7021 Park Hill Trail, Sachse, TX 75048. www.sachseradio.org
· 06/22/2018 | Field Day 2018 Commemorating the Lives of President Ronald & Mrs. Nancy Reagan
Jun 22-Jun 25, 1900Z-2359Z, N6R, Simi Valley, CA. Ventura County Amateur Radio Society (VCARS). 21.320 14.255 7.260 3.810. QSL. Peter S. Heins, 1559 Norwich Ave, Thousand Oaks, CA 91360. Ronald Reagan Presidential Library & Museum, Simi Valley, CA; Ventura County Amateur Radio Society (VCARS), Simi Settlers Amateur Radio Club (SSARC), and other interested Amateur Radio Operators. www.qrz.com/db/n6r
· 06/23/2018 | Field day
Jun 23-Jun 24, 1800Z-1800Z, W2GSB, Lindenhurst, NY. Great South Bay Amateur Radio Club. 14.258 7.245 3.925. Certificate. W2GSB, PO Box 1356, West Babylon, NY 11704. ALL MODES 6F STATION WITH A GOTA STATION W2TOB W2GSB WILL HAVE 3 SSB STATIONS 3 CW STATIONS ALSO DIGITAL MODES VHF 6 METER STATION SATELLITE STATION GIVE THEM A CALL W2GSB 6F IF LIVE ON LONG ISLAND STOP BY OUR FIELD DAY SITE EVERYONE IS WELCOME BABYLON TOWN HALL PARK 200 EAST SUNRISE HIGHWAY LINDENHURST NY ANY QUESTIONS INFO@nullGSBARC.ORG CHECK US OUT AT WWW.GSBARC.ORG ALSO ON TWITTER FACEBOOK www.gsbarc.org
· 06/23/2018 | Field Day 2018
Jun 23-Jun 24, 1800Z-2059Z, K6A, Palmdale, CA. Antelope Valley Amateur Radio Club. 20 meters. QSL. AVARC, P.O. Box 1011, Lancaster, CA 93584-1011. No QSL or Certificate given. www.k6ox.club
· 06/24/2018 | Boy Scouts of America Trail To Eagle XXIV
Jun 24-Jun 29, 1300Z-0500Z, K2BSA/8, Metamora, MI. Garden City Amateur Radio Club. 14.330 7.270 3.840. QSL. Richard Zarczynski, AC8FJ, 7371 N. Farmington Rd., Westland, MI 48185. An opportunity for older scouts to earn merit badges at camp toward their Eagle Scout award. Radio merit badge will again be taught to scouts who will be looking to engage in a QSO with amateurs on-the-air as a requirement. AC8FJ and W8MKB will be operating the K2BSA/8 station at the D-Bar-A scout ranch during the week at opportune times. www.michiganscouting.org/outdooradventures/properties/d-bar-a-scout-ranch/trail-to-eagle-at-d-bar-a
· 06/27/2018 | 155th Anniversary of "The Battle of Gettysburg"
Jun 27-Jul 10, 0300Z-0300Z, W1G, East Berlin, PA. WO4L. 18.158 14.288 7.227 3.830. Certificate & QSL. Robert J Hess, WO4L, 74 Curtis Dr, East Berlin, PA 17316. www.qrz.com/db/w1g
· 06/30/2018 | 5th Anniversary Granite Mountain Hotshots Memorial
Jun 30-Jul 1, 2200Z-0000Z, N7GMH, Prescott, AZ. Yavapai Amateur Radio Club. 18.119 14.229 7.229 3.819. Certificate. Don Bauer, WB7TTPH, 7150 E Acre Way, Prescott Valley, AZ 86315. 5th anniversary of the loss of 19 members of the elite Granite Mountain Hotshots Wild Land firefighting team in Yarnell, AZ. This Tragic event has been translated to a movie, 'Only The Brave' which we commend to your interest yarc.org
· 06/30/2018 | Celebrating 175 years of St. Celestine Catholic Church and the town of Celestine Indiana
Jun 30, 1700Z-2300Z, KA9GDW, Celestine, IN. Patoka Valley Amateur Radio Club. 14.285 7.185 7.070, 14.040 3.885. QSL. Michael R. Vogler, 261 N. Santine Rd., Celestine, IN 47521. QSL cards via EQSL or Send SASE and two green stamps to Mike Vogler, KA9GDW, 261 N. Santine Rd. Celestine, IN 47521. QSO"S confirmations will be uploaded to LOTW and EQSL. celestineindiana.com
· 06/30/2018 | Laura Ingalls Wilder Pageant
Jun 30-Jul 1, 1600Z-2359Z, W0NOZ, DeSmet, SD. Huron Amateur Radio Association. 18.155 14.265 7.265. Certificate & QSL. Huron ARA, Inc, PO Box 205, Huron, SD 57350. www.huronarc.info