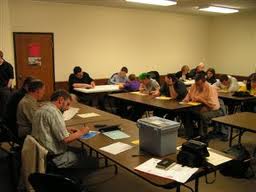 Lake Of the Ozarks Amateur Radio Club (LOARC) will be conducting a technician level training class in September and October. Those attending will be afforded the opportunity to take the Technician exam at the conclusion of the class. The fee for the class is $10 and $15 for the test. For more information on the classes (location and date) and to register please follow this link https://lctc.asapconnected.com/Courses.aspx?CourseGroupID=12376 . Hope to c'ya there!!!
YO YO YO Check out the "For Sale" area
At the last meeting Steven Bouck (AA4SB) gave a presentation on station grounding. For those of you that missed the meeting I posted a link to the website Steven obtained lots of good information. Check it out in the Training Resources tab.
Eat'n Meet'n for the 18th and 25th of October updated.
Remember, I'm always looking for things to post here, so if you have something you'd like to see here send an email to the above address.
Ever wonder if there is a relationship between Amateur Radio and Radio Astronomy? Check out this link and find out.
Don't forget about the club meeting and our nets. For more information check out "Club Info"